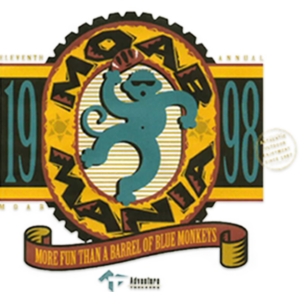 Blue Monkey small The "Blue Monkey" embodies the spirit of Adventure Trekkers and the MMBA. These people have demonstrated a lust for life and a desire to go beyond the artificial barriers placed before them. The people on the list below are unique and fascinating people who have learned that life is theirs for the taking. Each year we honor all "Blue Monkey's" by selecting from our guests the next person who demonstrates their ability to write their own life story. It might surprise you to know what we believe qualifies you to become a "Blue Monkey". This is not about testosterone or physical fitness or mountain bike prowess. This is about YOU Living YOUR LIFE !
1992 Jeremy "Germ Dog" Gerak – The Discover of the Blue Monkey

1993 Chris "Broken Foot" Cosgriff

1994 Mark "Hammer Head" Bickford

1995 Terri "Professor Party" Wright

1996 Jim "The Veganator" Krause

1997 Doug "Old Barbie" Rognlie

1998 Debra "Polly Pureheart" Fulton

1999 Susie "Puddles" Wright

2000 Brian "I Go Both Ways" Lower

2001 Gary "I'm a grow'er Not a show'er" Davis

2002 John "Mr. Congeniality" Karnes

2003 Paul "Pablo" Wright

2004 – The Blue Monkey Took a Rest (This is the only year the MMBA was not held )

2005 – "Air Dave" Yount

2006 – Jason "Gunslinger" Alexander

2007 – Eric "The Juggler" Hagen

2008 – Ed "Pasty White Boy" Young

2009 – Pasquale "The Italiano" Ciccu

2010 – Dave "The Healer" Leffmann

2011 -Kathi "Our Goddess" Engelken

2012 -Dave "The Survivor" Roberts

2013 -Kat "Queen of Katlanta" Karnes

2014 – Rodrick "The Drumiester" Overman

2015 – Andy "Muddman" Mudd

2016 – Byron "Fire Master" Lemay

2017 – Sue "The Bomb" Covington

2018 – Lisa "Bluegrass" Schneider

2019 – Bryan "Spirit Racoon" Hester

2020 – Covid interupts the MMBA

Fall 2021 – Bob "BobE-lish" Easter

2022 – Adam "Fish" Fisher


Could it be you ? Join the fun and your name could be included here with the other fabulously famous Blue Monkey's

Gear up and get ready for a great competition. Are you willing to go where you've never gone before? Do what you've never done before? Then you're a true player and a real contestant!